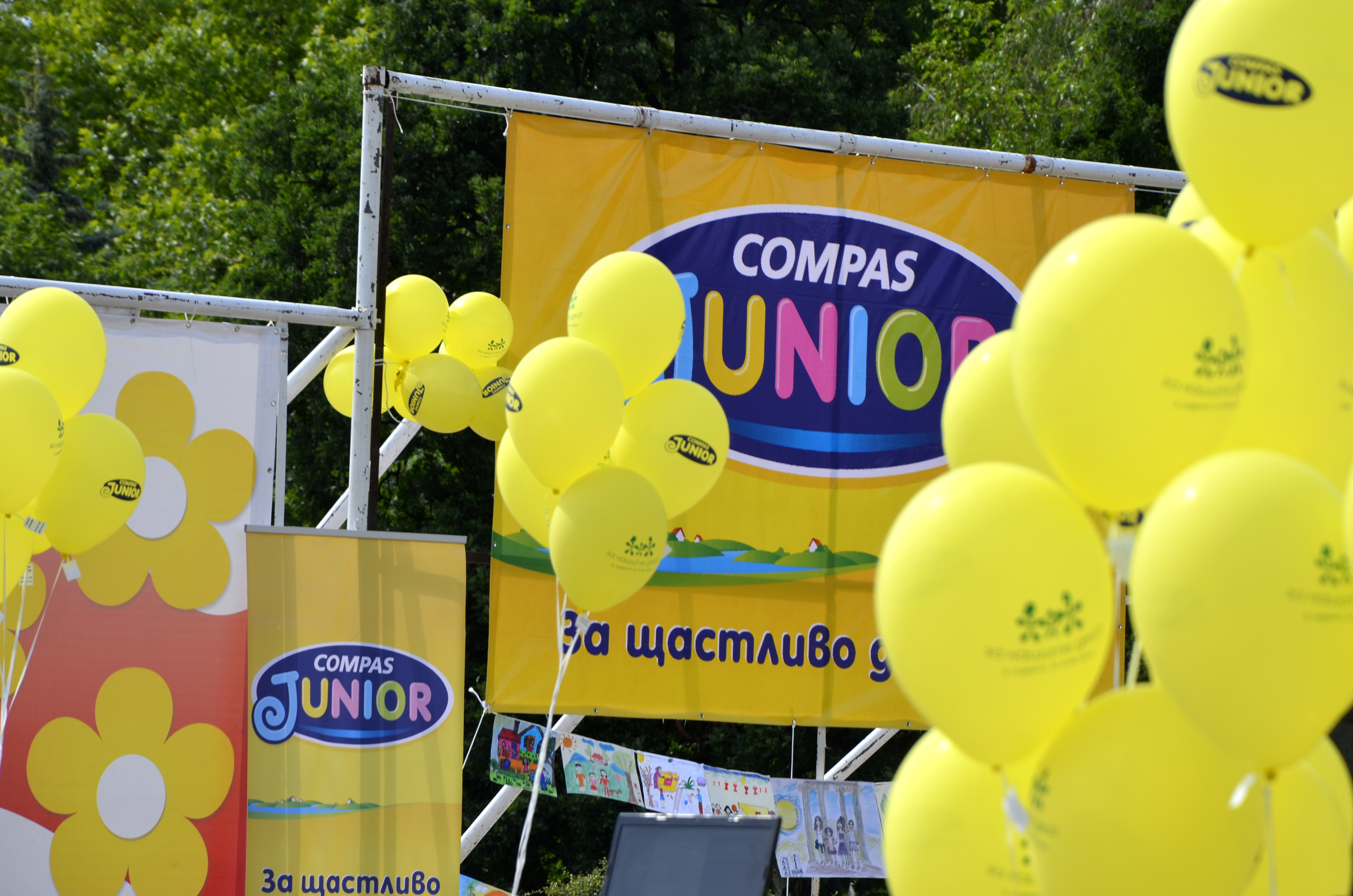 International Children's Day
03 June 2012
On 1st June 2012, for the second successive year, the company "Compass" Ltd. and "For Our Children" Foundation organized a celebration of the International Children's Day. This year, the celebration was held in the town of Montana. Artistic groups at the Municipal Youth Centre – the Brass Band and cheerleading squad of the High School of Mathematics and Natural Sciences, song and dance group Dance Machine, "Caprice" band, "Pastrenets Junior" band, dance ensamble "Youth", and "Taralezhite" song group from the town of Dimitrovgrad, took part in the celebration. Numerous prize games added to the enjoyment of the children and their parents, numerous smiling faces were painted, and anyone could taste the delicious Compass Junior pates.
The children who took part in the competitions for drawings and essays on the topic: "My happiest memory with Mom and Dad" also received prizes. In the category of "Drawing", Viktoriya Tsvetanova, Beatris Barashka, Aneliya Hristova, Deborah Georgiev and marcelo Iliev were awarded. The award-winners in the category of 'Essay' were Patricia Petrova and Petya Petrova. The works of the children from Montana were assessed by a jury with members: Asen Asenov, – Director of the Municipal Youth Centre Montana, Lyubomir Yordanov – journalist, Reni Petrova – artist and teacher of Art, and director of an art studio, and Gala Penkova – a student at 'Petar Bogdan' Foreign Language High School. Children from foster families also took part in the drawing competition, and expressed through their drawings what really makes them happy.
The event was officially initiated by the Mayor of the town of Montana, Mr. Zlatko Zhivkov. The organizers of the children's celebration – Georgi Mandadzhiev, Marketing Manager of "Compass" Ltd., and Ivanka Shalapatova, Director of "For Our Children" Foundation, congratulated the children on the International Children's Day. They focused the attention of the residents of Montana to the positive example set by foster families in the town. "For Our Children" Foundation has been working in Bulgaria for over 20 years now, striving to provide a family environment for the most vulnerable children. In 1998, the Foundation was the first in the country to introduce foster care, which gradually grew into a national priority. Since 2010, the company "Compass" Ltd has been assisting "For Our Children" Foundation in attracting and identifying foster families for children deprived of parental care. Thanks to these joint efforts, the Foundation is providing assistance to 25 families today, and continues to train new applicants.
The event was organized and held with the partnership of Montana Municipality, Municipal Youth Centre Montana, the Complex for Social Services in the town, and Radio Channel M.